So, a few weeks ago in the middle of the night, a somewhat odd idea popped into my head. I decided to write letters to artistic directors of various contracted/professional theaters in the Valley asking them if I could observe rehearsals or shadow the choreographer on one of their musicals next season. I don't want to be an intern or get paid or anything like that, I just want to sit and watch. If I want to take choreographing musicals to the next level, I figured watching the production process of a professional theater might be a good thing to do. If this isn't possible, I asked if I could have a meeting to talk about how their theaters work. I included my artistic and work resumes, a list of professional references, my business card, and a DVD of my demo reels with the letter. Katy-in-an-envelope, off to Phoenix Theatre, Arizona Theatre Company, Hale Centre Theatre, and Arizona Broadway Theatre. I have no idea if this will work, if any of them will say yes, if they'll get the letter or even read it. But I suppose it can't hurt to try. Plus, it was good marketing practice. And kind of fun putting these bundles together.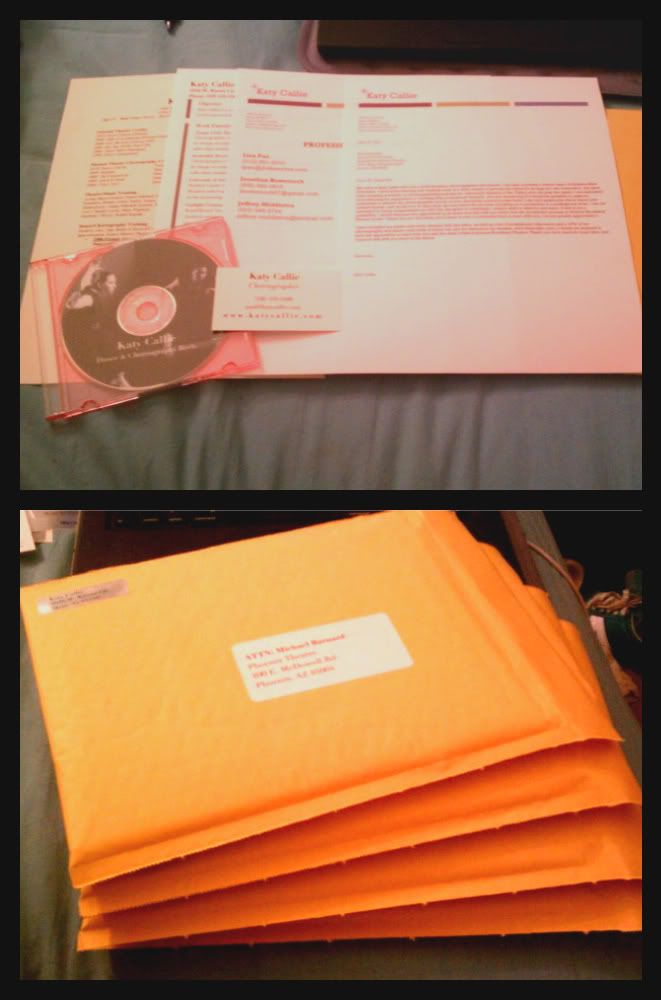 I took my first modern class in months today. Karen let me drop in to her level II class. I got through and guess it went alright, but it's frustrating to feel so out of shape and out of touch with my body. The fact that I've put on so much weight that I can't even look at myself doesn't help, either. Meh. But I guess it's good to get moving again, especially if I intend on coming back full time next semester. I just need to suffer through being out of shape for awhile.
Still looking for a job, which is thoroughly irritating. I've filled out a million applications but have only heard back from two places; one interview one not-interested. Aghh. It doesn't help that all of these applications are online. I hate sending them out into an abyss where I have no idea if they'll be read or not. So I think I'll use my leftover self-marketing energy from contacting theaters to physically go to each place with a cover letter, resume, reference list and availability (I'm even willing to adjust my sleep schedule so I can work opening shifts at Starbucks or McDonald's). SOMEONE HIRE ME, PLEEEEASE. I desperately need a job.
I can't remember if I've mentioned this or not, but I'm taking a beginning painting class every Monday through Tempe Parks & Rec. And I love it! I was nervous about it since I can't draw, but the class actually focuses on learning how to use different kinds of paint rather than learning how to draw. Which is EXACTLY what I was looking for -- I art journal/make mixed-media collages as a hobby, and want to learn how different paints work so I can use them in my collages. The teacher is fabulous, I'm learning a lot, and get a three hour block of time each week to turn my brain off and play with paint. It's a relief to have something to look forward to.
Not much else has been happening recently. I'm still popping pills and getting used to each medication; I'm almost at the point where I'm supposed to feel something other than side effects, so we'll see how it goes. Still getting awful nightmares, too, and still feeling crappy-but-can't-sleep-through-it. Which is why I haven't really been updating, because all I usually end up doing is whining. Eh.
Time for bed now. Sleepy wave.
"It is said that the Devil has all the best tunes.
This is broadly true. But heaven has the best choreographers."
--Good Omens, Neil Gaiman & Terry Prachett