My sleep schedule is once again messed up. Today was yet another attempt to stabilize it, and in doing so, happened to have an obscenely productive day. (In my opinion, anyway.) Once in a Blue Moon, I get bursts of GET-THIS-SHIT-DONE motivation, so I try my best to take advantage of them when they seldom appear. I did so much stuff today that I decided to document it in photos! Also, forgive any slap-happy writing ahead. I am, as you can tell, on no sleep.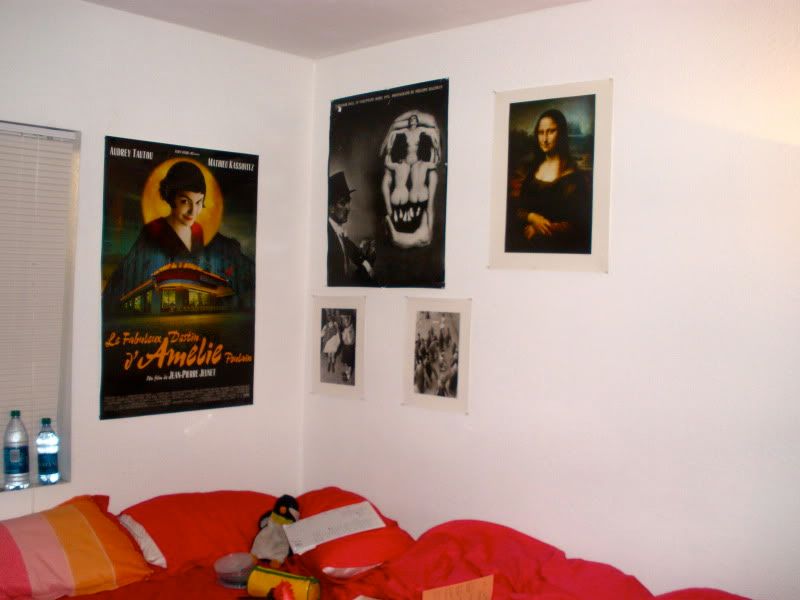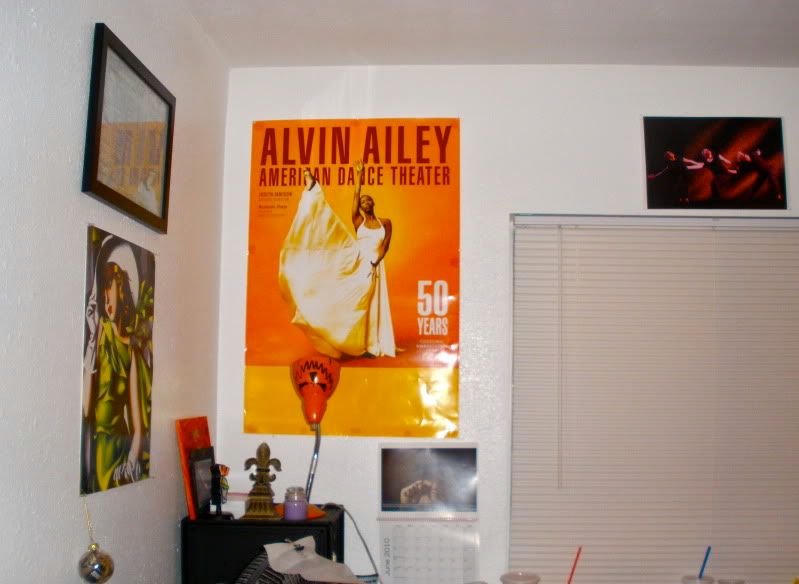 At around 7:00 AM, I started my day by hanging some posters. The
Amelie
has been up for awhile, but the other posters went up today. The walls are still a work-in-progress, as I have many more things I plan to hang. But I got a great start. Can you spot Kaylene's face in there?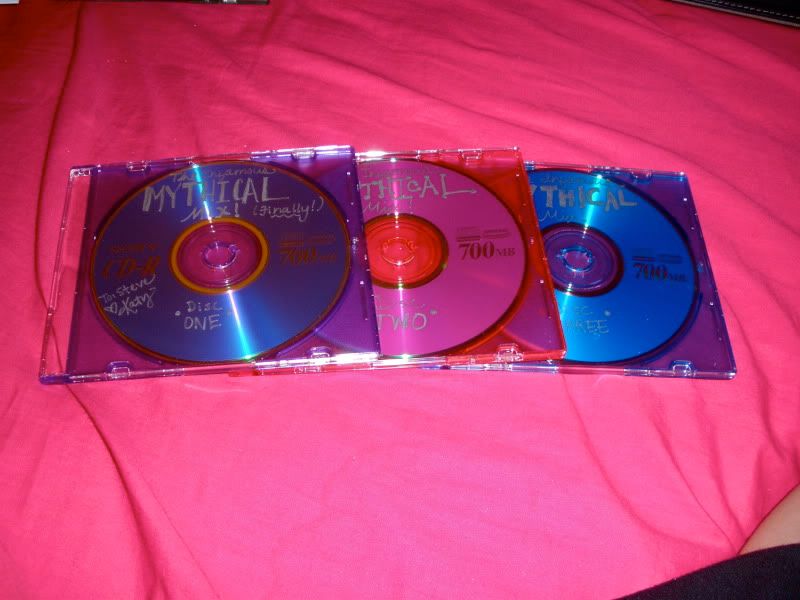 Then, I sat down and completed the task that has evaded me for at least a year: I finished Steve's mixes. I've been gathering songs since we started dating, and the list grew so overwhelming that I basically scrapped most of the original playlists and just went to town. And finally finished the damn things! Even though these songs were definitely custom picked for Steve, they do definitely sum up my music taste pretty well. There are definitely some songs I forgot to add, but I could always burn him another CD before he leaves.
DISC ONE:
1) Dntel--"Rock My Boat"
2) Ingrid Michaelson--"Creep" (Radiohead cover...with her and her ukulele!)
3) Amanda Palmer--"Oasis"
4) Rosemary Clooney--"Botch-A-Me"
5) Scissor Sisters--"I Can't Decide"
6) Nelly Furtado--"Hey Man!"
7) David Byrne w/ Rufus Wainwright--"Au Fond Du Temple Saint"
8) The Decemberists--"A Record Year For Rainfall"
9) Regina Spektor--"Blue Lips (Live)"
10) Madeleine Peyroux--"Between the Bars" (Elliot Smith cover)
11) Christina Aguilera--"Mercy On Me"
12) Ani Difranco--"Shameless"
13) Kate Nash--"Mariella"
14) The Decemberists--"A Cautionary Song"
15) Yann Tiersen--"Rue des Cascades"
16) Ingrid Michaelson--"The Chain"
17) The Bird & The Bee--"My Love"
18) Taken By Trees--"Sweet Child O' Mine" (Guns 'N' Roses cover)
19) Regina Spektor--"On the Radio"
20) Rosemary Clooney--"In the Cool, Cool, Cool of the Evening" (That is the ultimate summer song, by the way.)
DISC TWO:
1) Jace Everett--"Bad Things"
2) Kiki & Herb--"No Children/Rainbow Connection" (I smooshed these songs together on Garage Band since they're both awesome.)
3) Ella Fitzgerald--"Airmail Special"
4) Roisin Murphy--"Night of the Dancing Flame"
5) Yael Naim--"New Soul"
6) Amy Winehouse--"Back to Black"
7) Fiona Apple--"Extraordinary Machine"
8) Exit 245--"Fix You" (Coldplay cover and Collegiate a cappella JACKPOT...Don't tell Coldplay, but I think I like this version better!)
9) Tori Amos--"Bells For Her"
10) Alison Krauss & Robert Plant--"Sister Rosetta Goes Before Us" (Sam Phillips cover)
11) The Decemberists--"Won't Want For Love"
12) Cyndi Lauper--"You've Really Got A Hold On Me"
13) David Byrne--"Glass, Concrete & Stone"
14) Adele--"Right As Rain"
15) Indigo Girls--"Ozilline"
16) Margaret Whiting--"Time After Time"
DISC THREE:
1) The Chieftains & Nickel Creek--"The Raggle Taggle Gypsy"
2) Pink Martini--"Do Svedanya, Mio Bambino"
3) Lulu--"Stealing My Love From Me"
4) April March--"Chick Habit"
5) Ani Difranco--"Here For Now"
6) Lady Gaga--"Speechless"
7) Rolling Stones--"Laugh, I Nearly Died"
8) Nickel Creek--"The Lighthouse's Tale"
9) Alexi Murdoch--"Orange Sky"
10) Inara George--"Mistress"
11) Neutral Milk Hotel--"In the Aeroplane Over the Sea"
12) The Cinematic Orchestra--"To Build A Home"
13) Martha Wainwright--"Bloody Mother Fucking Asshole" (No bitter why-do-you-have-to-move subtext here, trust me! It's just one of my all-time favorite songs.)
14) Lisbeth Scott--"Take Me Home"
15) Jason Mraz--"After An Afternoon"
16) The Decemberists--"Sons & Daughters"
17) Van Morrison--"Sweet Thing" (This is our song.)
18) Kiki & Herb--"Running Up That Hill"
Now I don't mess around when I make people mixes. That's one of the reasons it took me so long to get this done; because I am not only meticulous about the mix itself, but also about the track list. I typically use funky postcards (I used the Photobooth series for these), and cover the front with lyrics. I love the Photobooth postcards because I get to draw in thought/dialogue bubbles around the lyrics for an extra silly touch. I also give a bit of commentary on each song. It's a long process, but it's how I like to do it.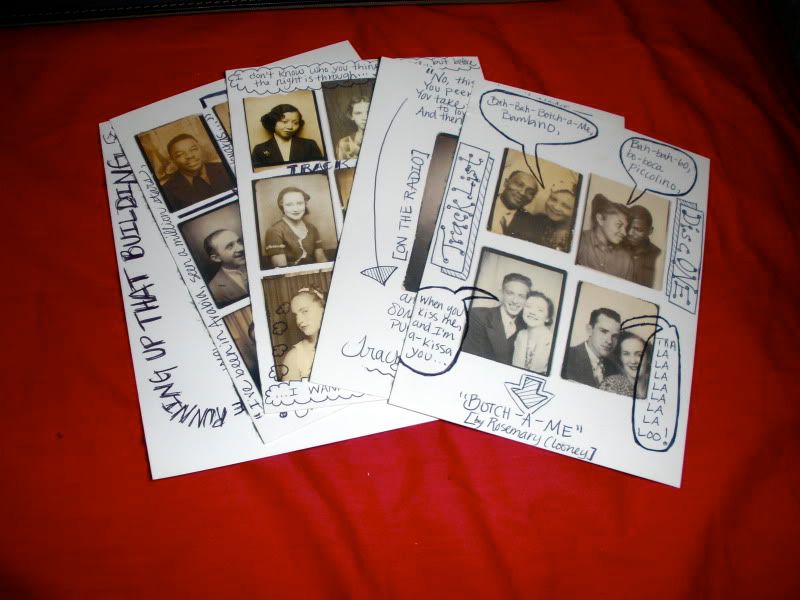 The complete track list set. The actual tracks and commentary are all on the back.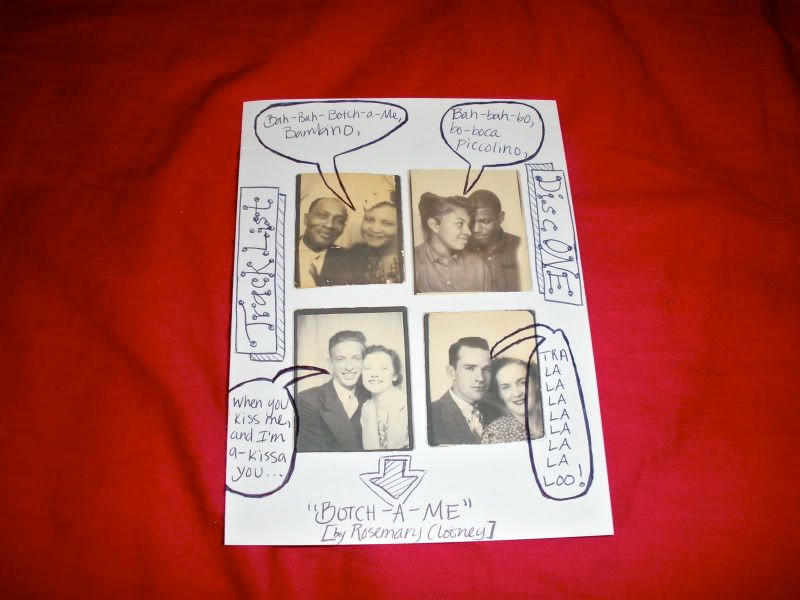 Disc One track list. Lyrics: "Botch-A-Me" by Rosemary Clooney.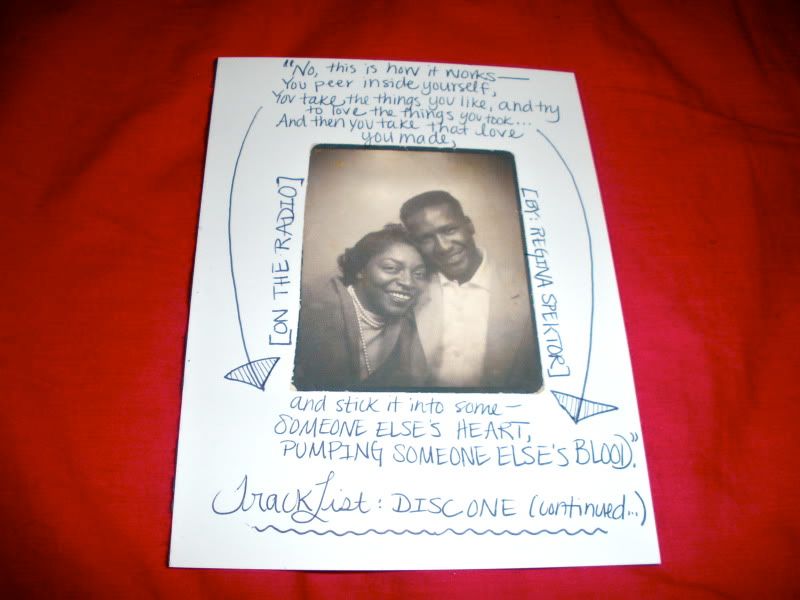 Disc One (continued) track list. Lyrics: "On the Radio" by Regina Spektor (this is probably my favorite stanza of all time.)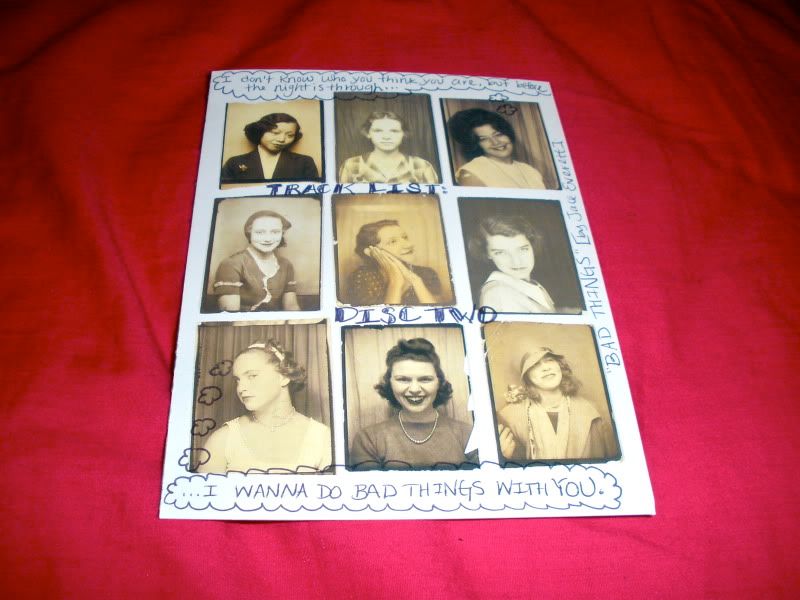 Disc Two track list. Lyrics: "Bad Things" by Jace Everett.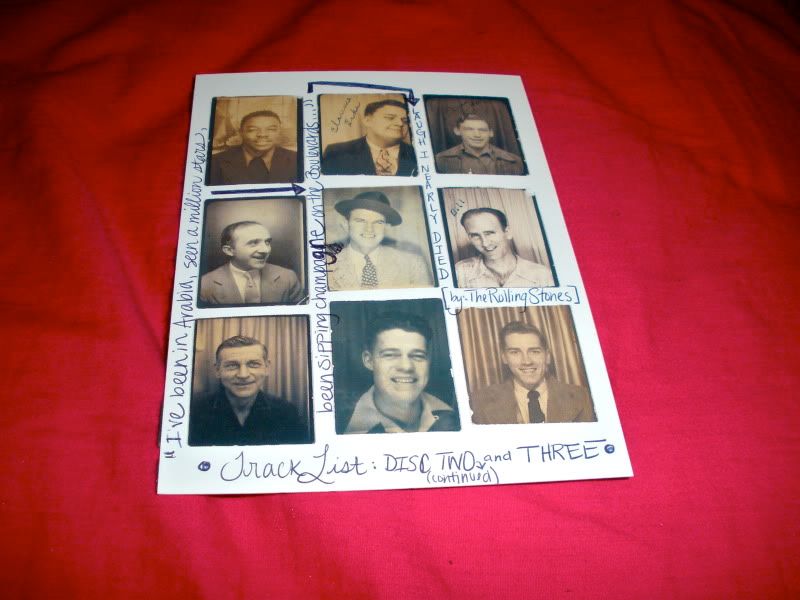 Disc Two (continued) & Disc Three track list. Lyrics: "Laugh, I Nearly Died" by the Rolling Stones.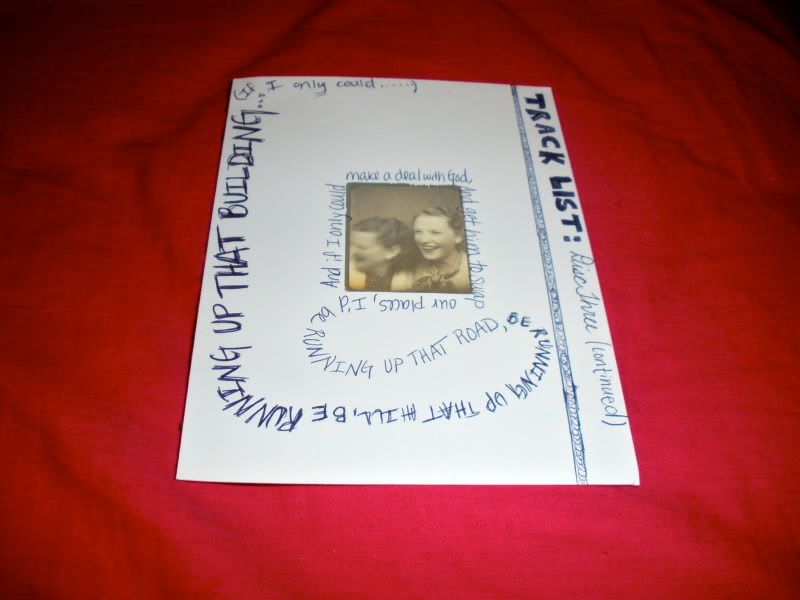 Disc Three (continued) track list. Lyrics: "Running Up That Hill," originally by Kate Bush but covered on the mix by Kiki & Herb.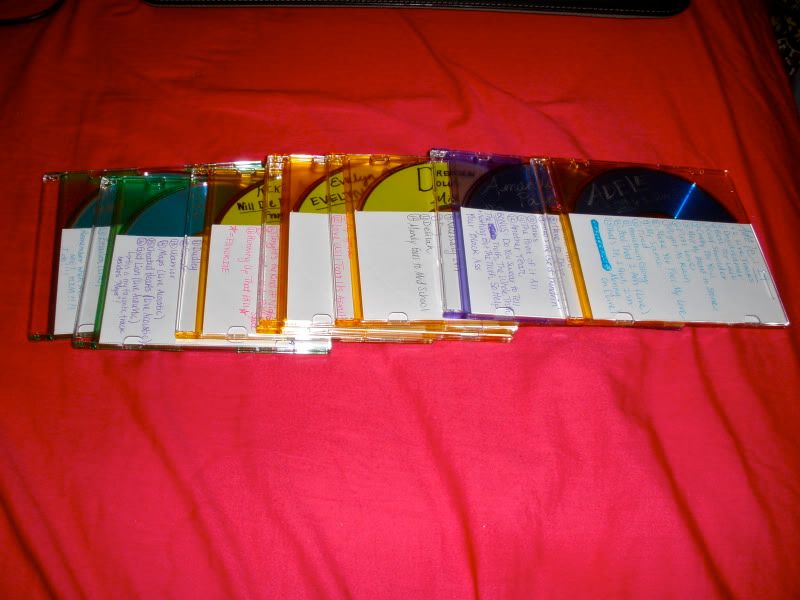 I also burned him a bunch of other music I've been meaning to give him: Adele's
19
, Amanda Palmer's
Who Killed Amanda Palmer?
+ the free track she recently released, Kiki & Herb's
Will Die For You: Live from Carnegie Hall
, Evelyn Evelyn's
Evelyn Evelyn
, Rufus Wainwright's
All Days Are Nights: Songs For Lulu
, A mix of my favorite Yeah Yeah Yeahs songs, and a mix of my favorite Dresden Dolls songs. I also made track lists on index cards; since they weren't custom made mixes, the track lists were simple and without any extra commentary.
There's the full stack of CDs, including the track list set for the mix. WHEW.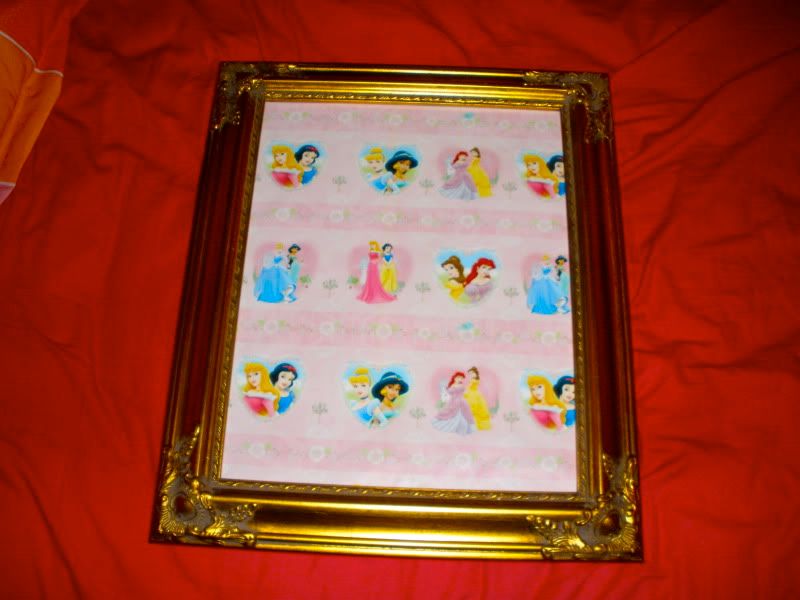 Then I went out to Target and Michael's to get supplies for my next project: a ridiculously fabulous idea for organizing earrings that I saw in
Real Simple
magazine (which I am currently obsessed with). They had an article with DIY organization projects according to whether you're a Right Brain or Left Brain person. I am most definitely Right Brained, and this nifty earring project is the perfect solution to the pile of sad, tangled earrings in my bathroom. I cut out an 11x14 piece of foam core, covered it in Disney Princess wrapping paper, and put it into a blank frame from Michael's (one with no glass or back to it; just the frame). I'm attaching it to my bathroom wall with velcro, so I'm giving the adhesive 24 hours to fully bond before I hang the frame and attach my earrings with dressmaker pins. I love the way it turned out! And it was so easy, too.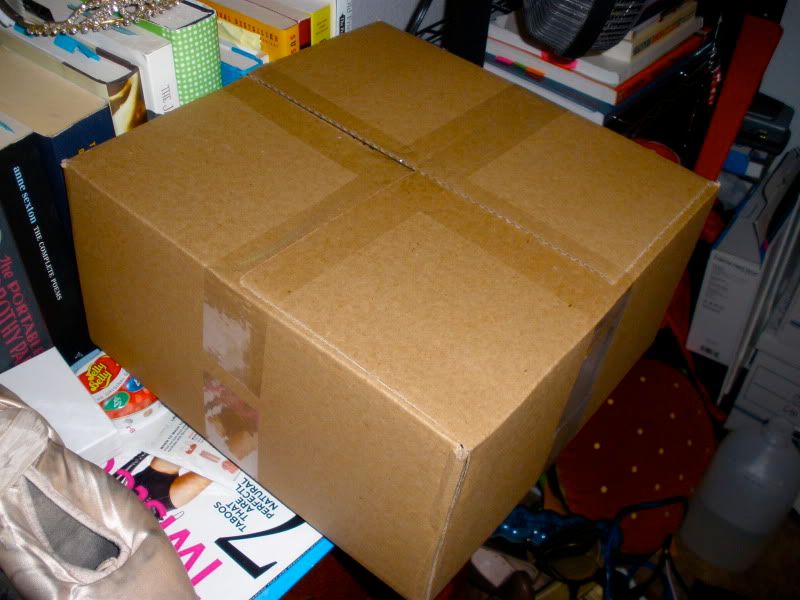 Then I packed up Derek's late birthday present (
The Worst Case Scenario Survival Guide: Man Skills
) and got it ready to ship to Seattle.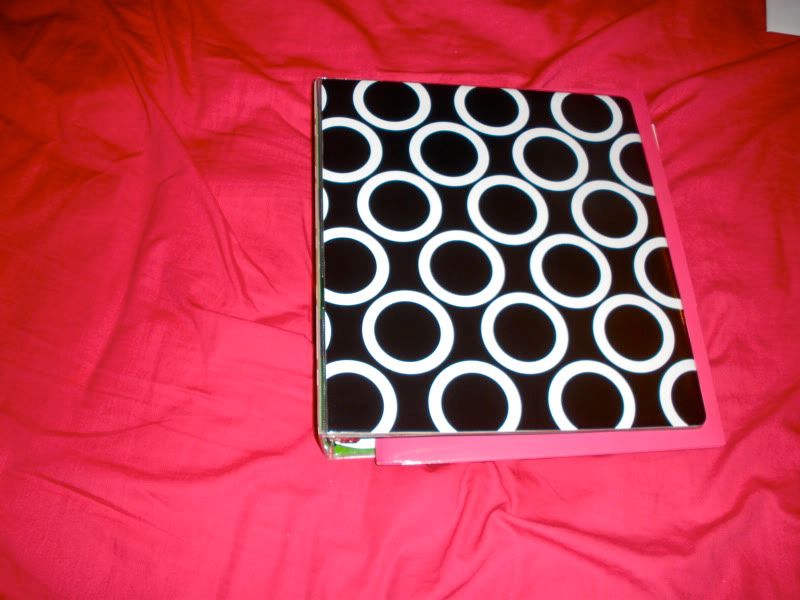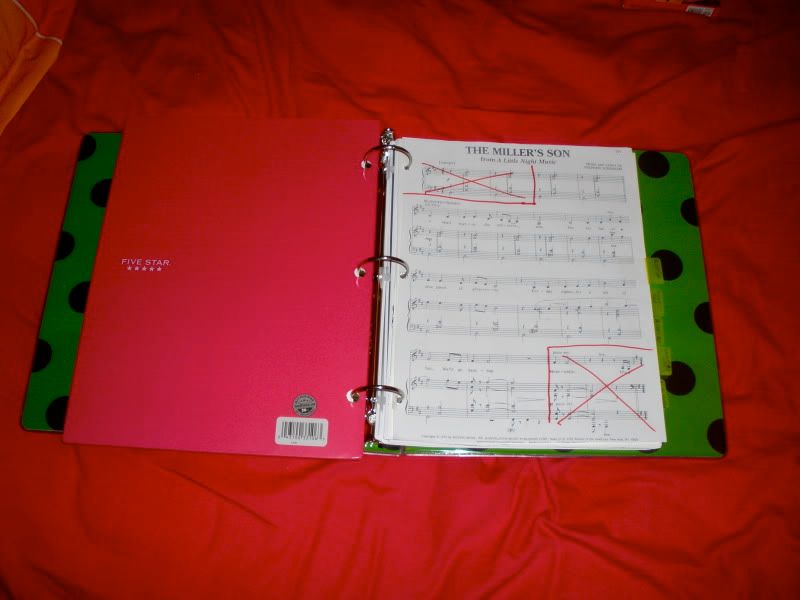 I also started an Audition binder, where I can keep all my sheet music, copies of my headshot/resume, and articles on auditioning that I've saved over the years.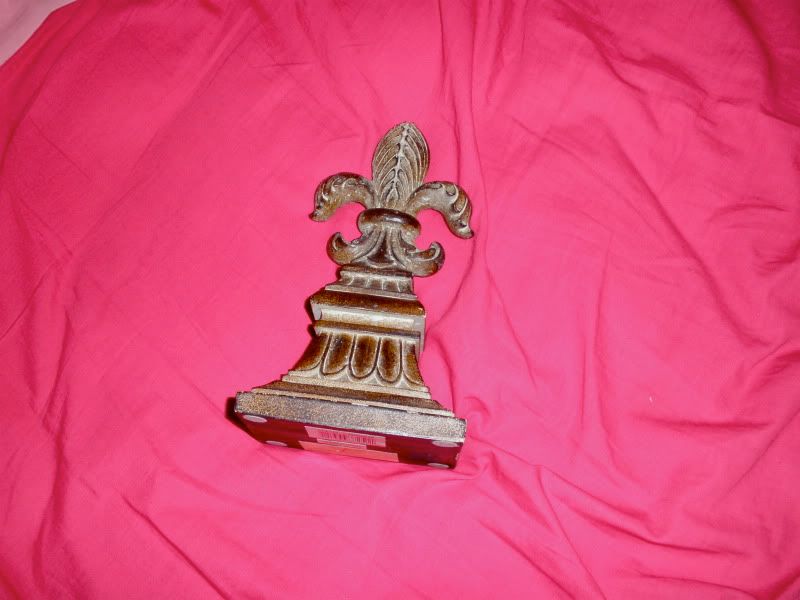 Then I repaired one of my fleur de lis bookends that Derek got me for Christmas. A piece had fallen off, so I reattached it with Krazy Glue. Good as new!
Annnnd now I'm here, writing and uploading photos. I have so many more fun projects that I want to do (I started a list), so I'm hoping my sleep schedule can stabilize and bursts of motivation keep coming so I can have more days like this. I've been so preoccupied with everything that haven't even eaten anything today (except for drinking 3 Red Bulls to keep me awake). So I'm going to go grab some food, see what Steve is up to, and crash early. Whaaat a day.